Lighting the Way
After a heavy rain, the top of the black car parked outside this house was unusually reflective. (Bocana Street, Bernal Heights, San Francisco.)
Light/Dark Streaming
The late-afternoon light was hitting the rafters and supporting structures just right at the O'Hanlon Center of the Arts Gallery. (Mill Valley, CA.)
Infinity
As I exited a restaurant in San Francisco, this mirror in the lobby was begging to be noticed. I was so focused on getting the reflection just right that, to this day, I have no idea what the restaurant was called or where it was located.
Monster Guard
A looming presence at sunrise. (Bernal Heights, San Francisco.)
Black Beauty
Shot at Urban Ore salvage yard, Berkeley, CA.
Under the Pier
There was a large seal hanging out under a pier in Monterey, CA. (If I had leaned over any further to capture more of the seal, I would have been in the drink.) But I like the way it turned out: more mystery.
Aura
Giacometti sculpture at the Norton Simon Museum. (Pasadena, CA.)
Water Ballet
In late-afternoon, I was trying to capture the lovely, bouncing reflections on the right when something black swam through the pond and disappeared; I waited for the manta ray's return and got the shot. Whew! (Academy of Sciences, Golden Gate Park, San Francisco.)
Nightmare Beastie
Shadow of a large plant, its labyrinthian "tongue" a piece of metal lying on the path. (Bernal Heights, San Francisco.)
Embryo Light
The lamp was made with bamboo-like bent wood. (Shot at Forest Knolls, Marin County, CA.)
Horse Eye
Yellow is hay, white is nose, and there's something wrong with the horse's blue eye. (Shot at Marin County Fair, San Rafael, CA.)
Monster Maw
Driftwood at Nosara Beach, Costa Rica.
Woozy Sunset
Shot through a beer bottle. (Shot at LaGarta Hotel, Nosara, Costa Rica.)
Pier Mashup
Reflection of pier by shooting off mylar. (Belvedere, CA.)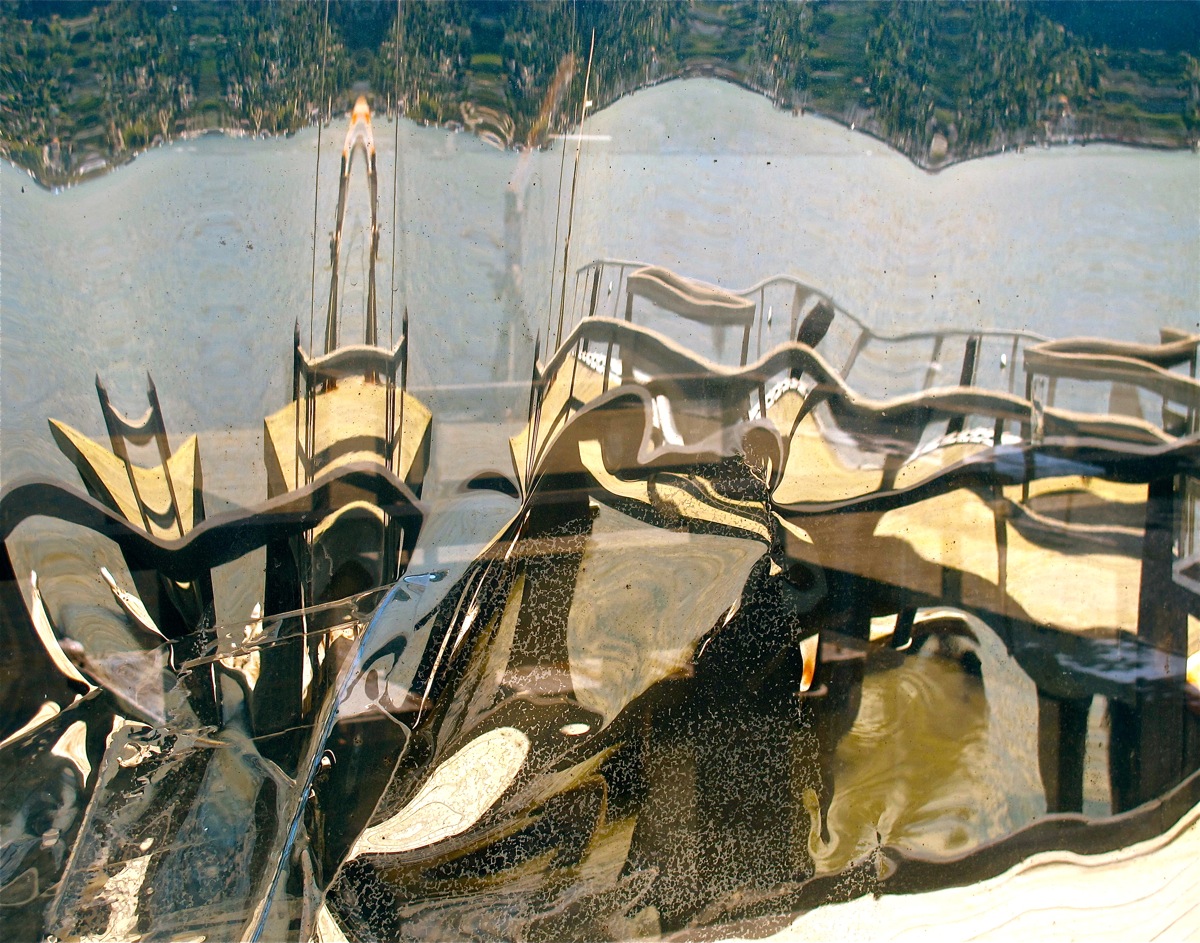 Mylar Reflection
Same pier on another day, more sunlight available. Reflection off mylar. (Belvedere, CA.)
Building Angles
Shot in North Beach, San Francisco.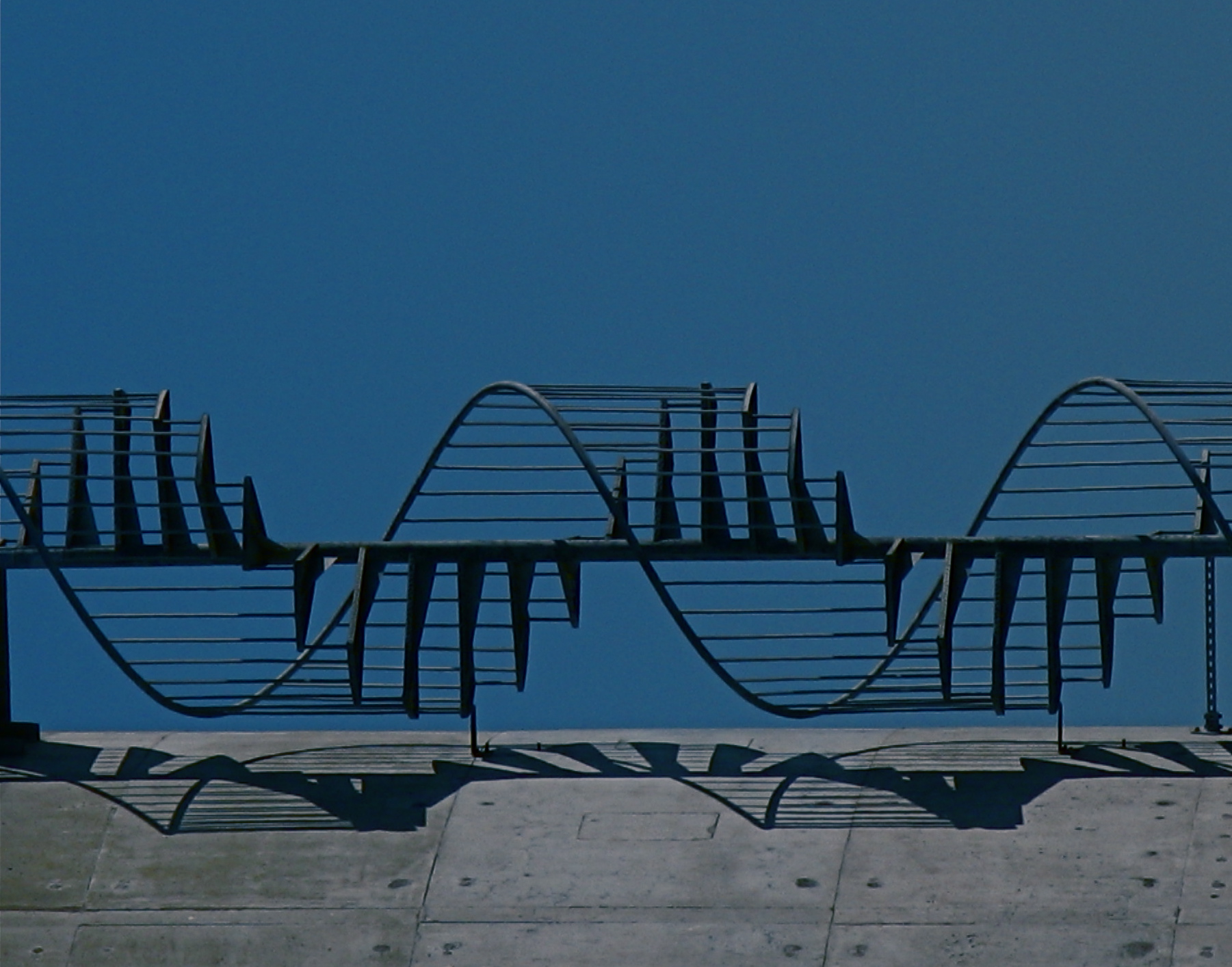 A Circular Staircase
Rotated on its side -- yielding more gifts that way. (Treasure Island, San Francisco.)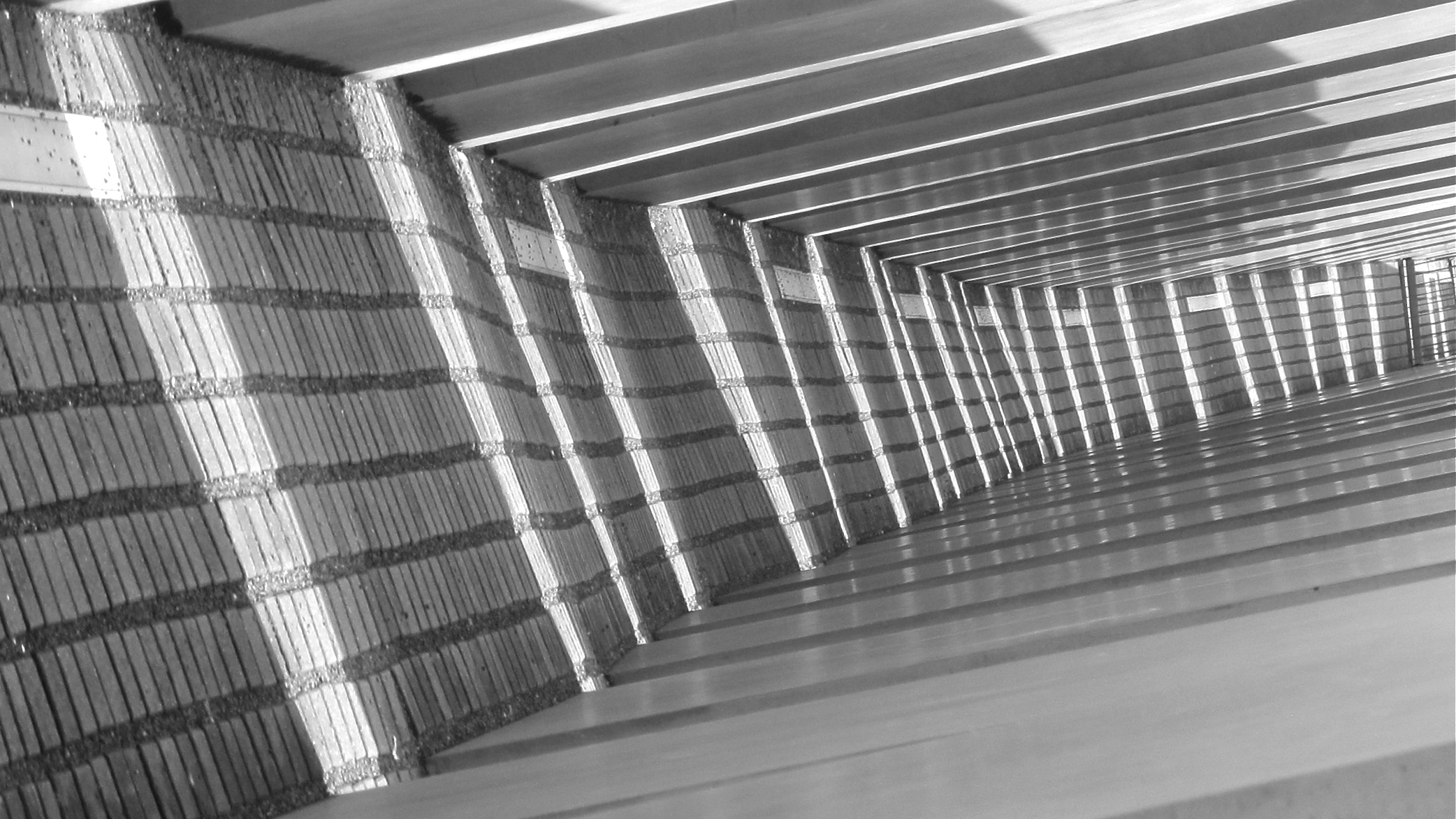 Holocaust Memorial, Berlin
The Holocaust turned the world upside down. How to memorialize something so morally atrocious? Here's one photographic view, taken while wandering through the memorial grounds in Berlin.
The New Bundestag, Berlin
The old, Hitler-era Bundestag still exists, but this is the modern one that Berliners want to show off to visitors. A stunning piece of architecture, from both inside and outside.
Trick-of-the-Eye
This is a single shot, with the eye of the viewer completing the puzzle: the colored leaves of Autumn on the trees behind the San Anselmo house, another view in and reflecting off the window overlooking the deck.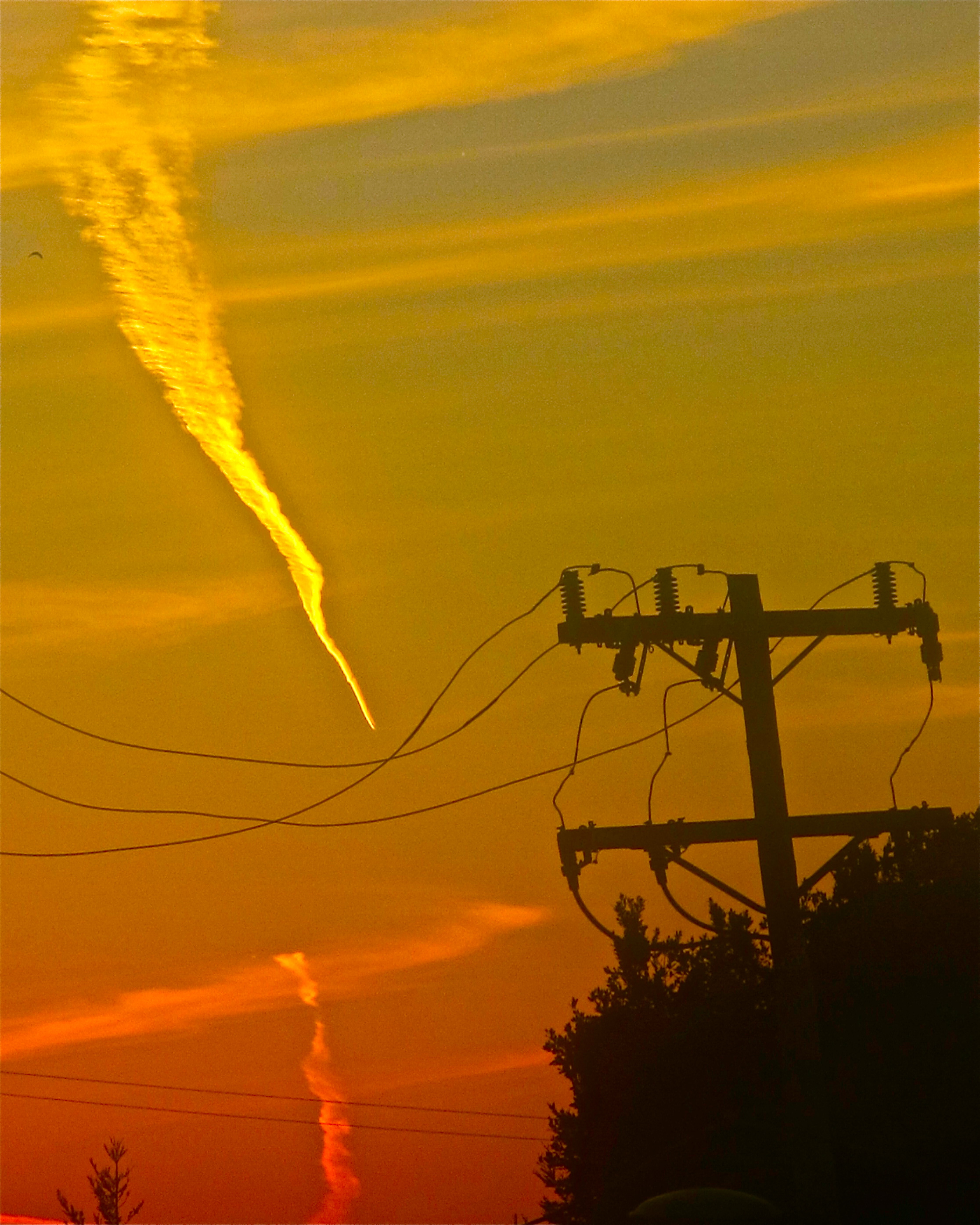 "THE THIRD RAIL"
These could be a contrail, or a finger of high energy trying to touch an electric wire -- maybe to connect theiir essences or maybe a way of saying hello, just staying in touch. It certainly was eye-catching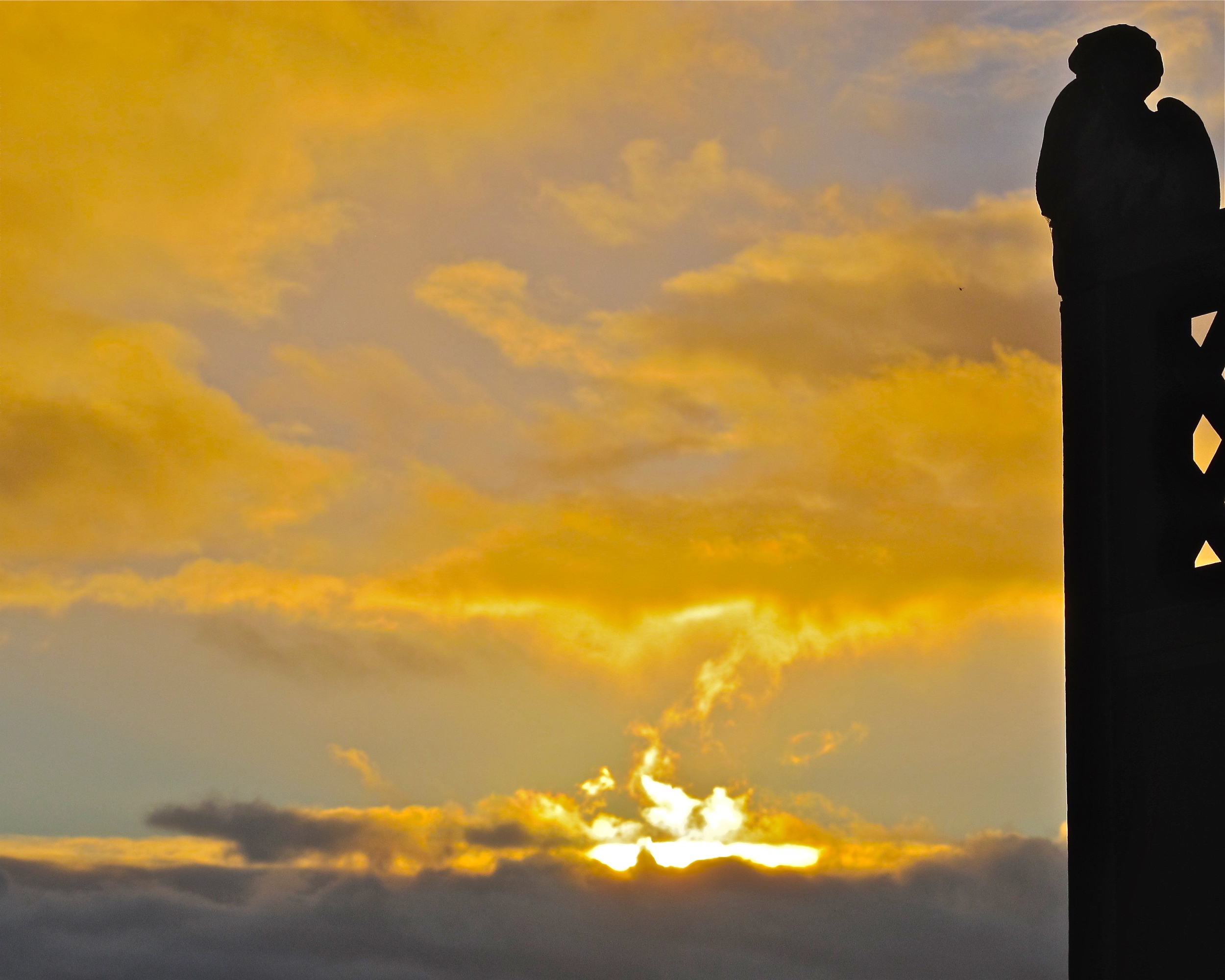 DAWN MAGIC
Here's a curious urban cherub sitting on a post looking at a bubbling cauldron of pure white light. Is this how it all began?