Through a Glass, Greenly
Put some green-bottle glass in front of a lens et, voila, a dreamlike world emerges. (Berkeley, CA.)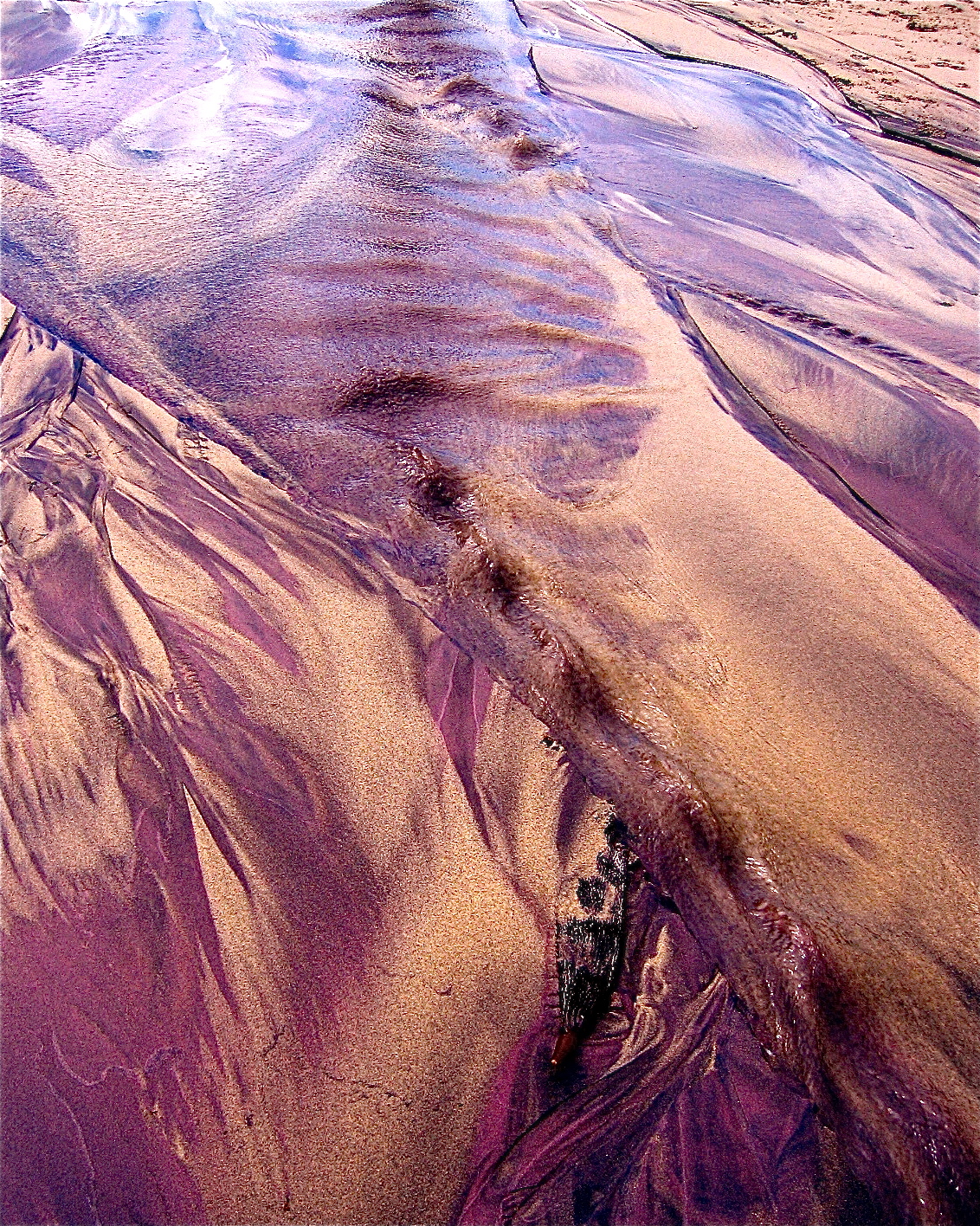 Purple Haze
At Feiffer State Park in Santa Cruz County, there are rocks on the beach that ooze a purplish liquid that seems to transmogrify into an eerie, flesh-like substance when it runs down the sand to the water. Strange and beautiful.
Sunrise on Chairs
This was taken on a cruise ship at dawn heading for Alaska's Southeast. Rotating the image adds another way of seeing more.
Underwater Colors
I never realized starfish could be that complexly colored. This was taken in a clear tidepool at Fitzgerald Marine Reserve at Moss Beach, south of San Francisco, CA.
Double Vision
At a classic-cars event in San Anselmo, CA., it was possible to get images like this by photographing off shiny fenders. Fun!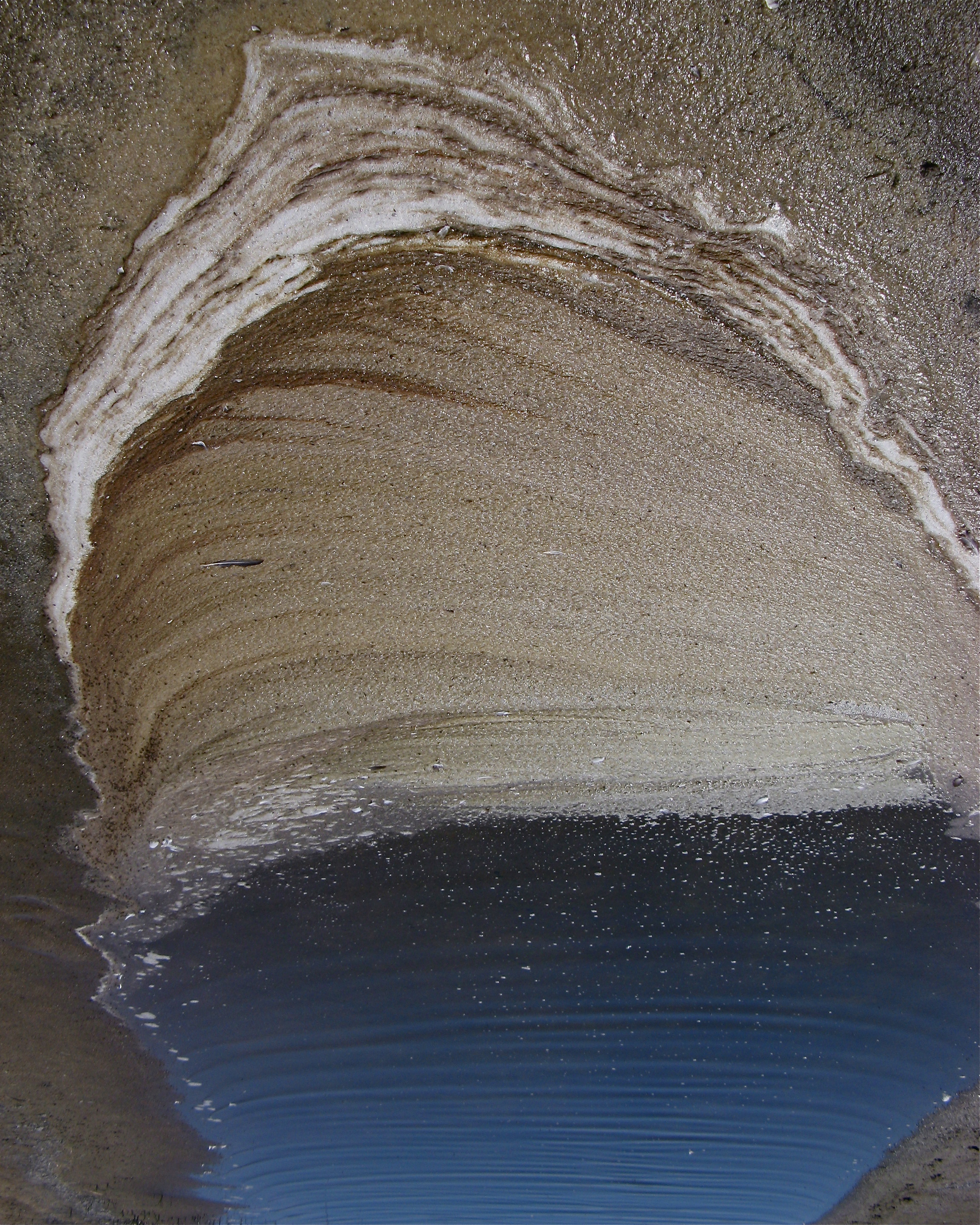 Abbotts Lagoon
Another photo made more interesting (I think) by rotating it. Shot at the lovely, peaceful Abbotts Lagoon, part of the Point Reyes National Seashore in West Marin County, CA.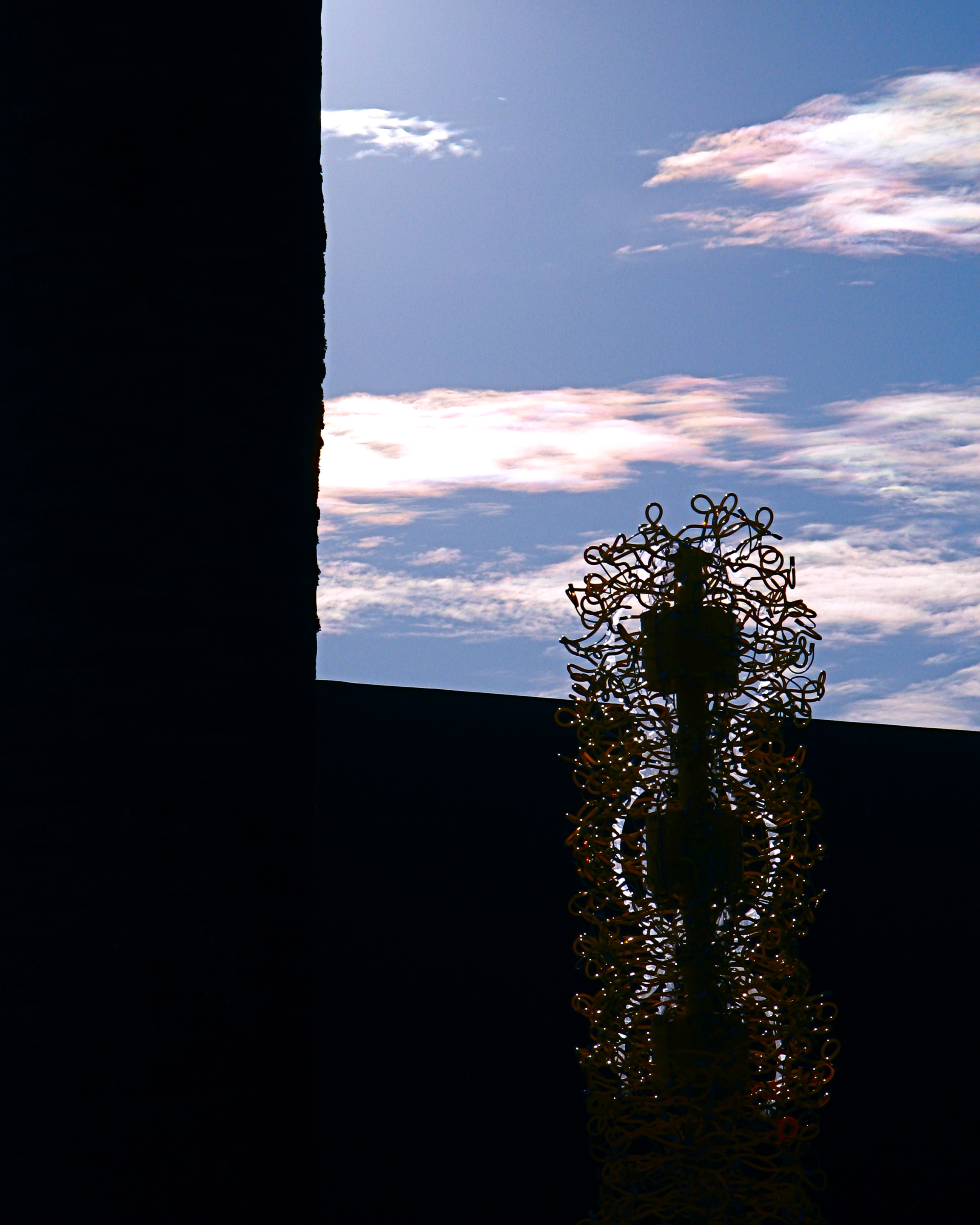 Chihuly Tower
Glass-master Dale Chihuly built an orange-colored glass tower outside his exhibit at the De Young Museum in San Francisco's Golden Gate Park. The sun was about to set, so no chance to show off the orange glow of the tower, but the image unfolded in a different way, with a different, striking framing.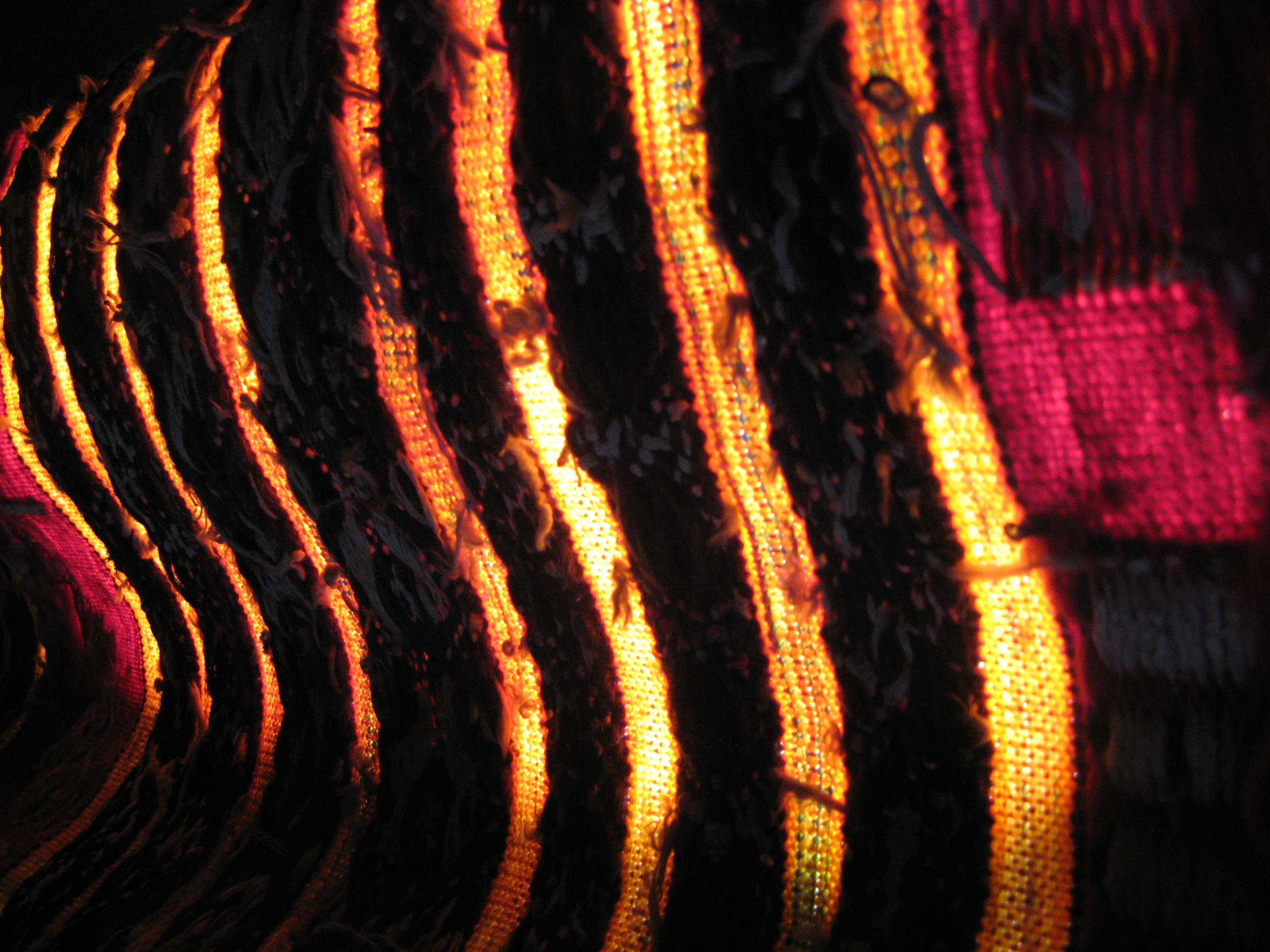 Fabric Light
The bright summer light was streaming into a closet, where a rug was hanging as a kind of "door," so I went behind the rug and captured this pattern. (San Francisco, CA.)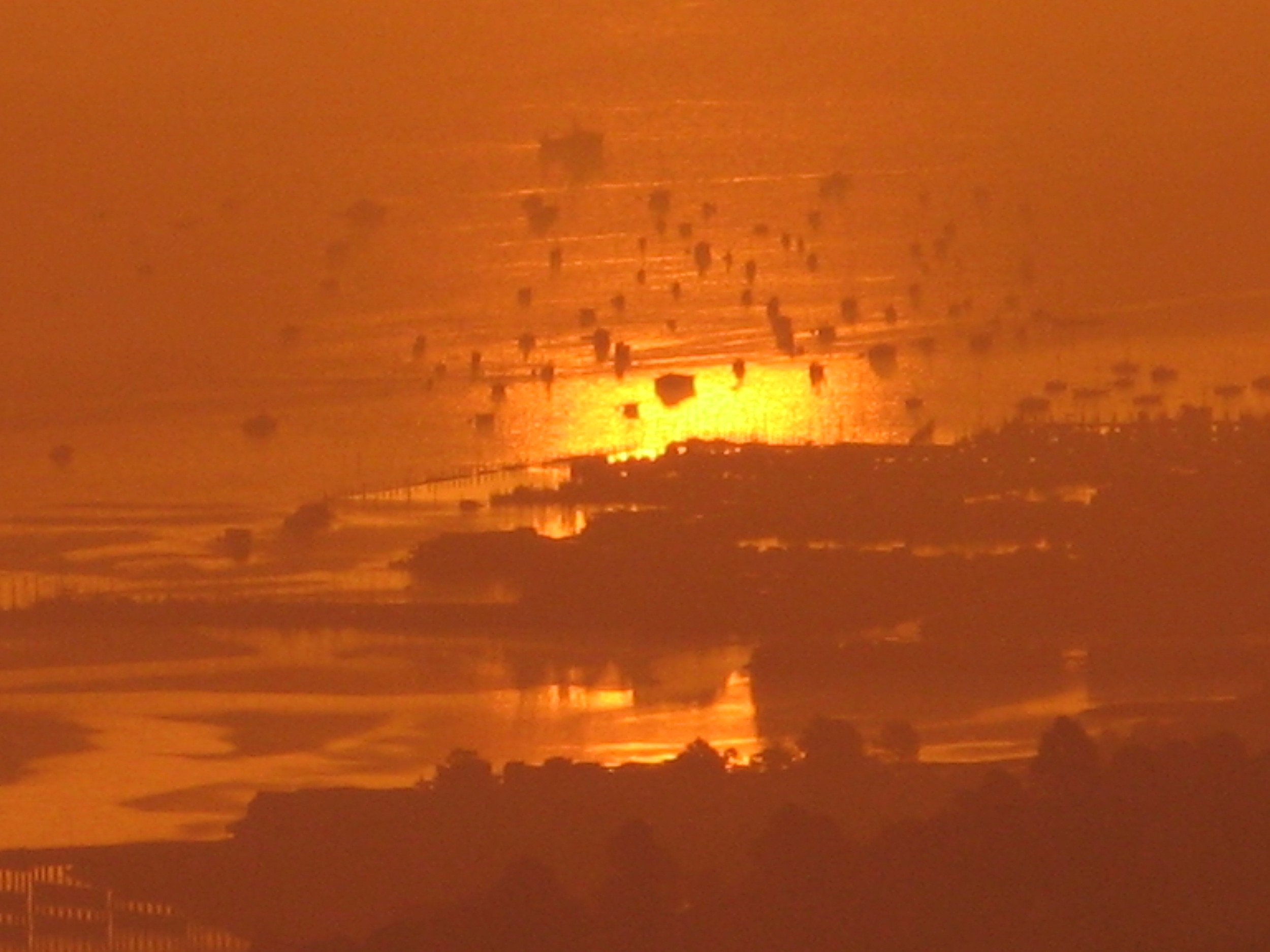 Sausalito Harbor
Sunrise hitting the harbor area of Sausalito, CA., dotted with many sailing and fishing vessels. (Shot from top of Mt. Tam, Marin County.)
Urban Reflections
What happens when architects install curved windows in a downtown setting? If you're lucky, you get a shot something like this. (Taken in the alley next to the old PG&E building, now part of the Contemporary Jewish Museum, San Francisco, CA.)
Magic Fog
The ever-present fog that flows through San Francisco's Golden Gate is a never-ceasing treasure trove of images. In this one, the suspension cables appear mysteriously odd.
Turbulent See
As close as I have come to photographing lightning, or maybe it's a ship taking water and unable to release its anchor. Photographed near San Francisco's Embarcadero during a heavy thunderstorm.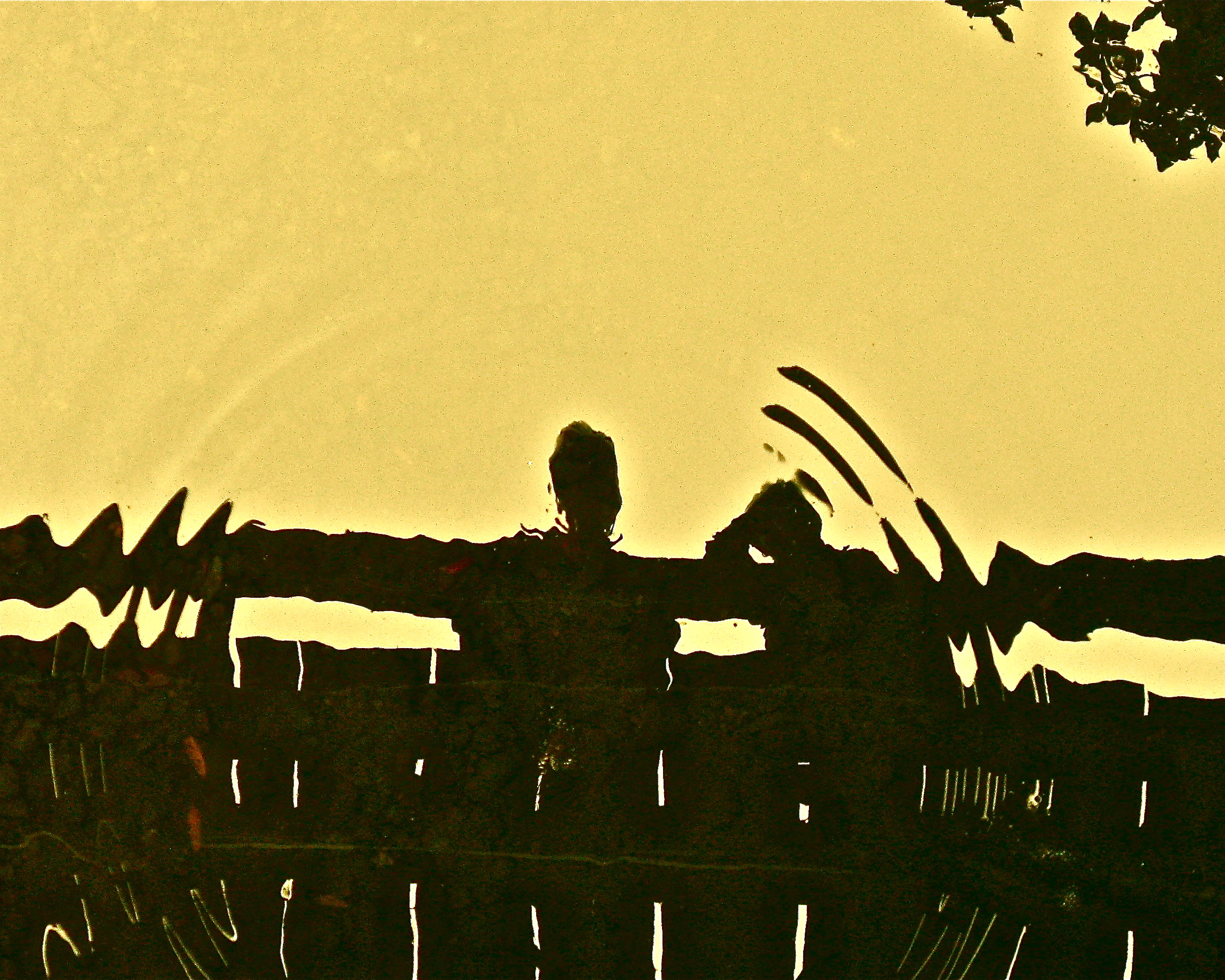 Love Ripples
A couple at Samuel P. Taylor State Park in Marin County seem enveloped in a rippling circle of love, aided by the photographer having spit from the bridge into the creek below.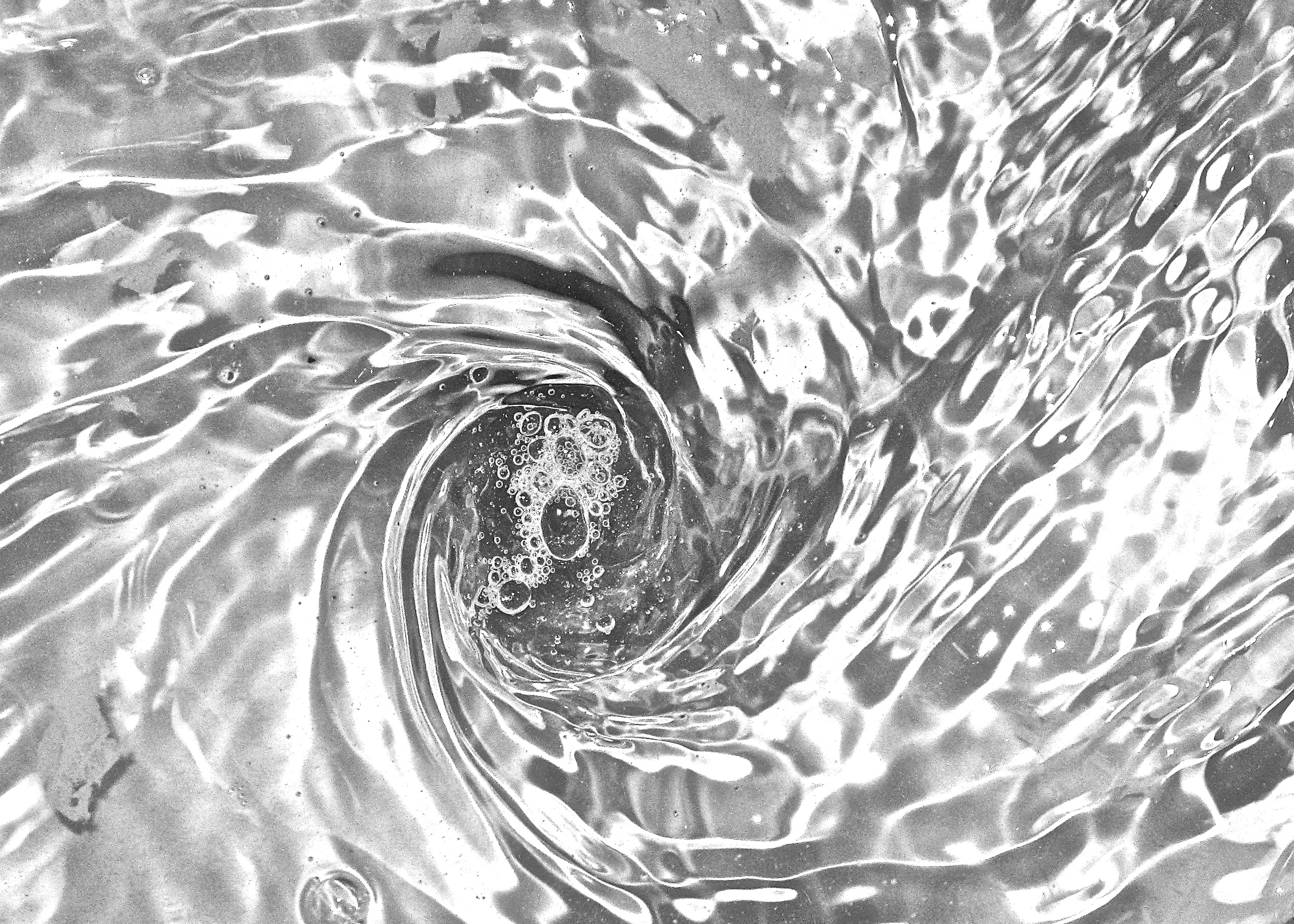 Swirl
Many newer toilets will not yield this kind of swirl, but, thank goodness, this older one surely did. (San Geronimo, Marin County.)
VERY Downward Dog
I was fascinated by this very ambitious dog, who seemed determined to tunnel his way out of Muniera Kadrie's yoga studio. (Woodacre, CA.)
Wait 'til You See the Mosquitoes
Captured an image of this very large praying-mantis at Berkeley's Botantical Gardens. It seems friendly enough, but you never know.
The Art of Home
All I did was lie on my back at the bottom of the stairs and look up, et voila, a totally different kind of angularity appeared. (San Francisco.)
Under a Seine Bridge
It was a red-sky sunset when our bateau mouche passed under a bridge and we found ourselves awed by these colors. (Paris.)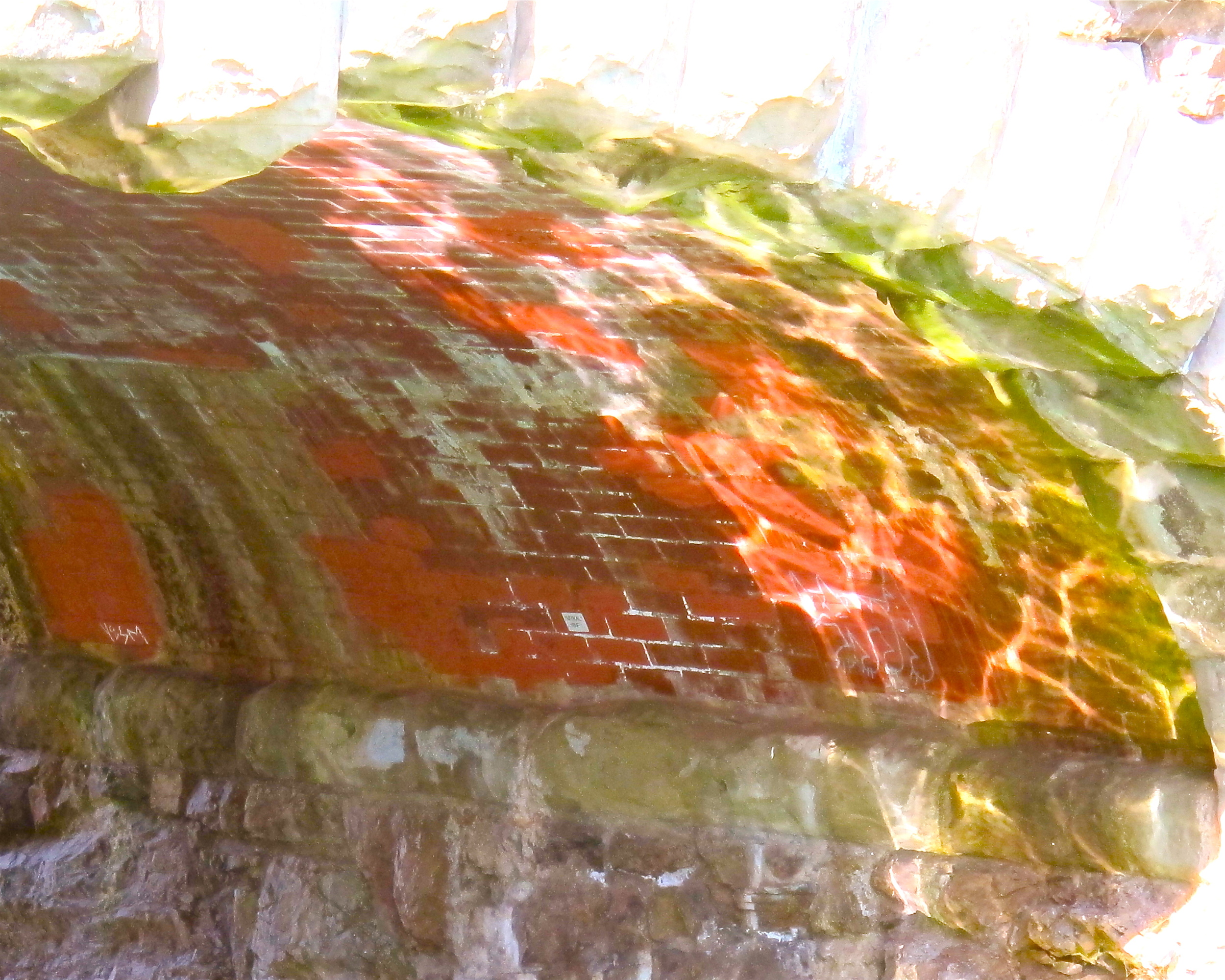 Under a Stow Lake Bridge
The late-afternoon light created a lovely palette of colors as our rowboat headed under a bridge at Stow Lake in Golden Gate Park. (San Francisco)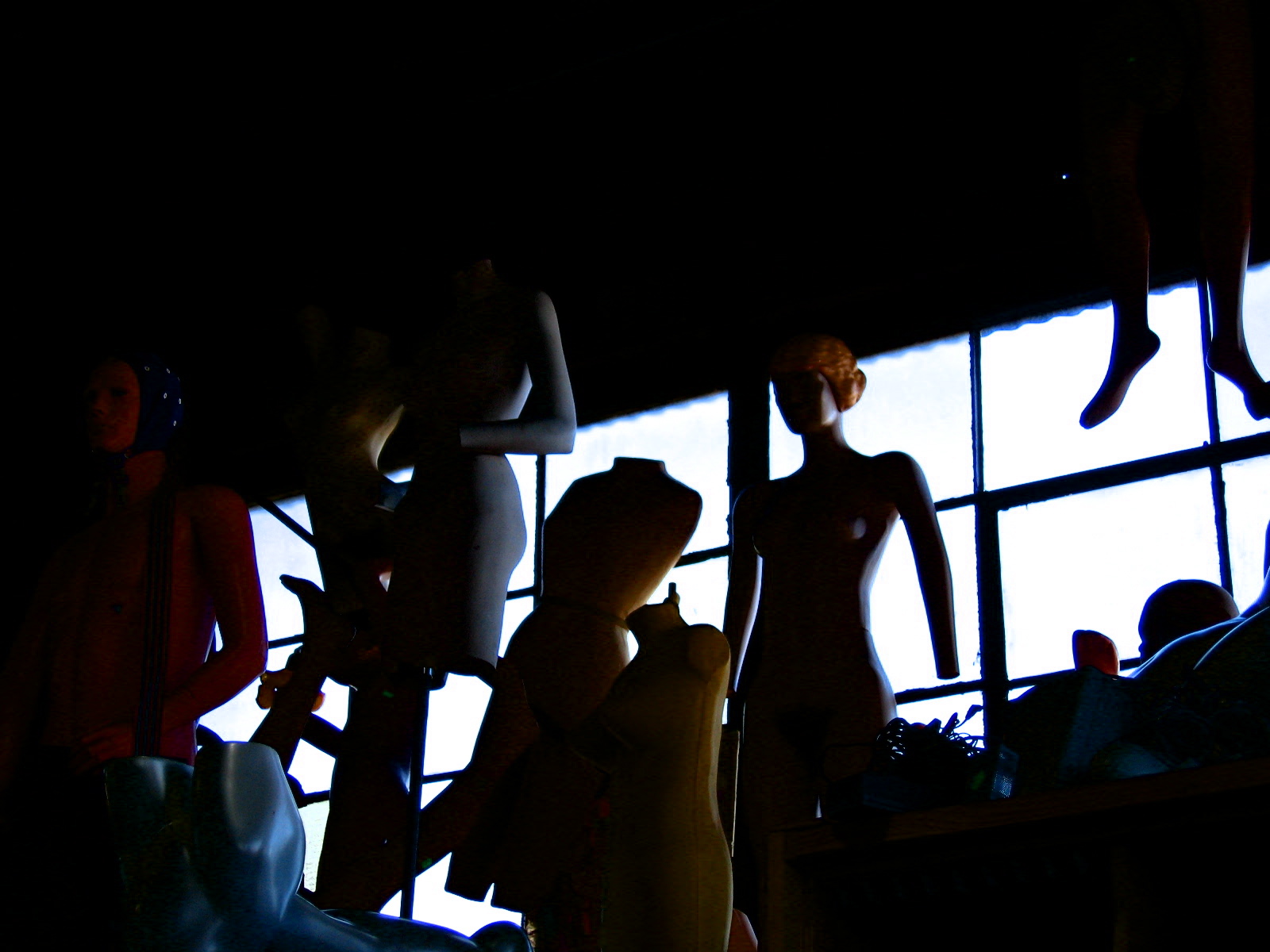 Dream Image
It looks like an outtake from a Hitchcock thriller, but was actually shot at Urban Ore salvage yard in Berkeley, CA.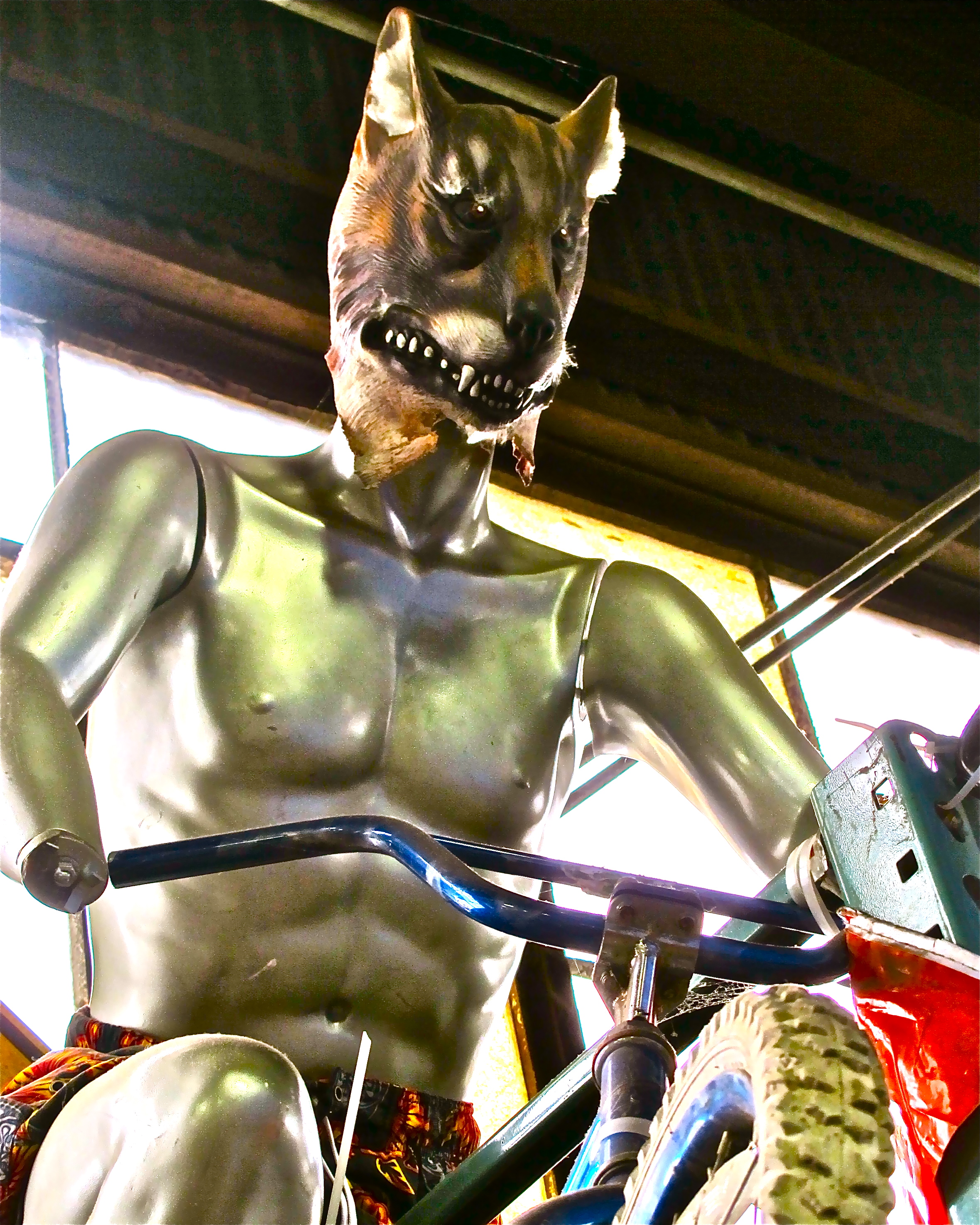 Road Rage
One can find all sorts of strange creations -- such as this scary biker --at the Urban Ore salvage yard in Berkeley, CA.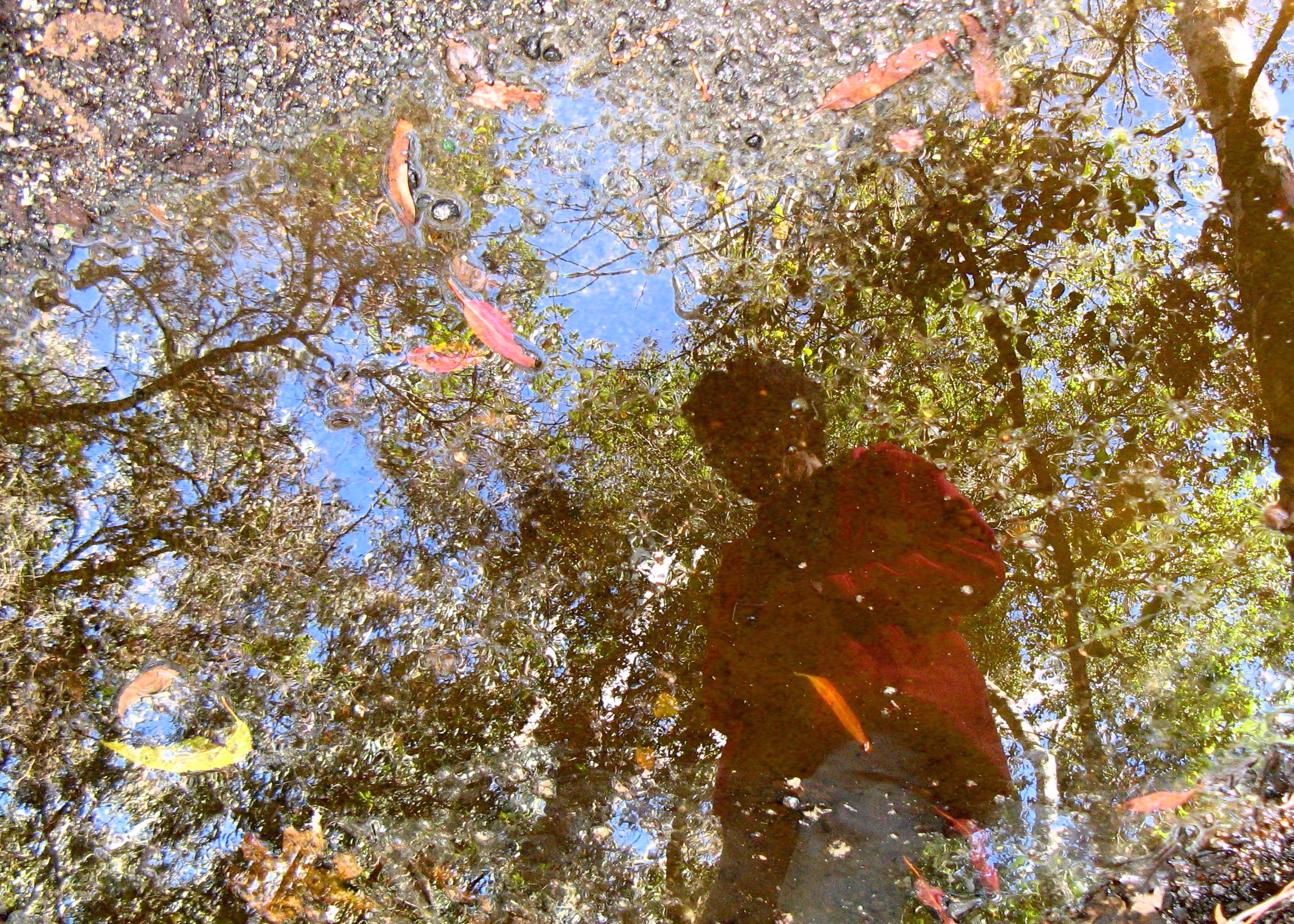 Always More to See
Joan Sadler, our photography group's guru, seems to be located in a forest setting, shot from below. But look more closely. (Jack London State Park, Glenn Ellen, CA.)
The Pain of Isolation
What did this little fellow do to earn his isolation from society? (Woodacre, CA.)
Floating Through the Universe
There's a hot-air balloon in this photo, but how did it get upside-down, and what kind of strange map is it following? 'Tis a puzzlement. (Kapadokya, Turkey.)
Ducking a Landscape
Not exactly clear what's going on here. Is that some kind of bird? What's it doing in front of those yellow clouds? Is it supposed to mean something? (San Francisco.)
Cisterno/Istanbul
The Turkish lighting designer deserves an award for showing off this 4th-century Roman cisterno to such beautiful effect. (Istanbul)
Neon Hula Hoopsters
Heading for the U-Bahn station at Alexander Platz late one night, we wandered into a delightful flashmob of neon-outfitted hula hoopsters. Was like seeing visitors from a much more colorful planet.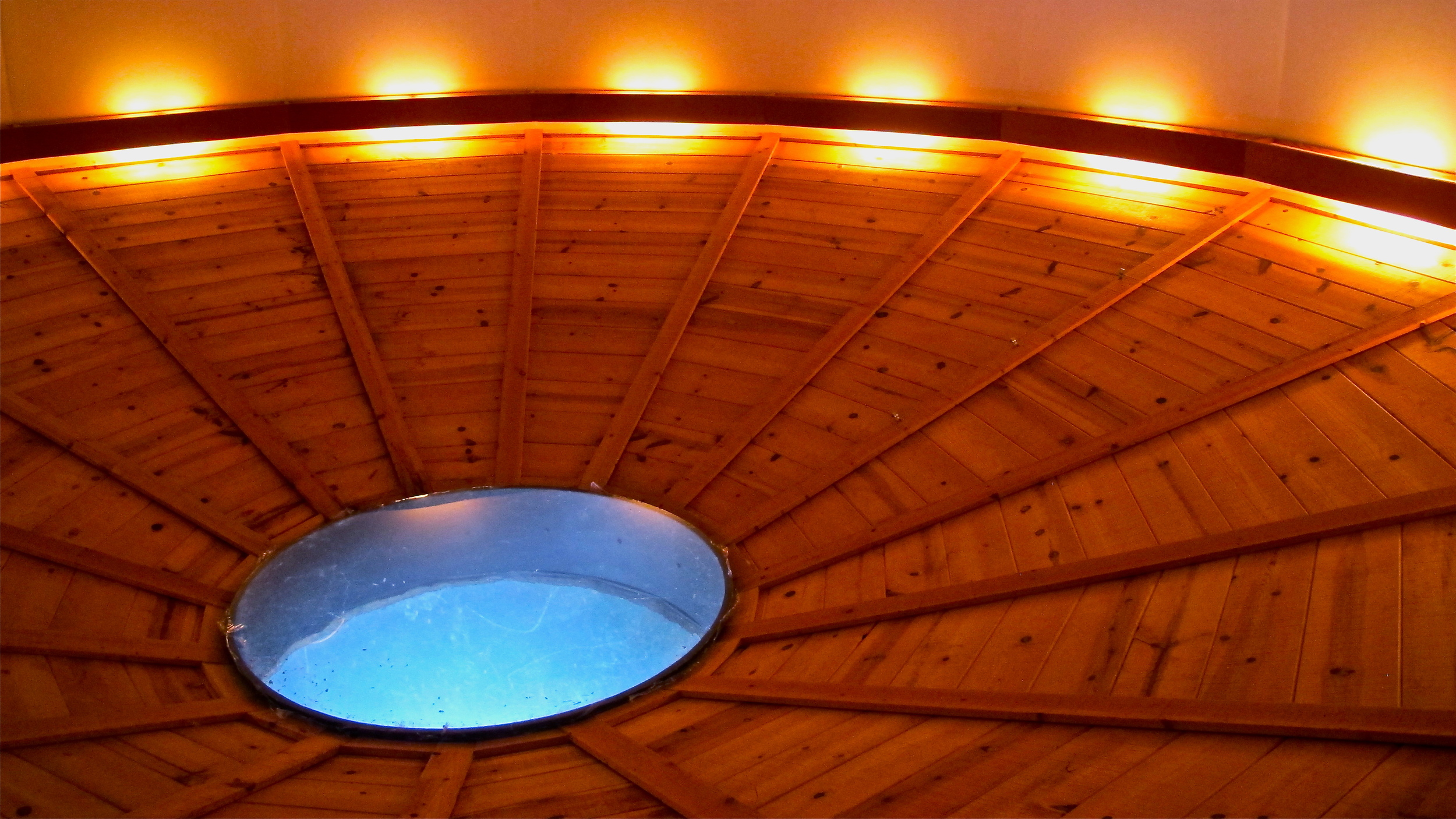 UFO from the Inside
Some kind of gentle suction force brought me aboard this alien spaceship, where they asked me all sorts of questions about life on our planet. Well, actually I believe I took this shot inside Muniera Kadrie's yoga studio/yurt in Woodacre, CA.
Angel in America
It's a symbiotic relationship: the owl scares birds away from smashing into the window, and the angel looks out for the owl. Shot early one morning in Bernal Heights in San Francisco.
Spider Tears
To me on my early-morning walk on Bernal Hill, these oddly-shaped circles looked like cells seen under a microscope. But they really were dew drops caught in a spiderweb -- or maybe they really were tears from a very unhappy spider.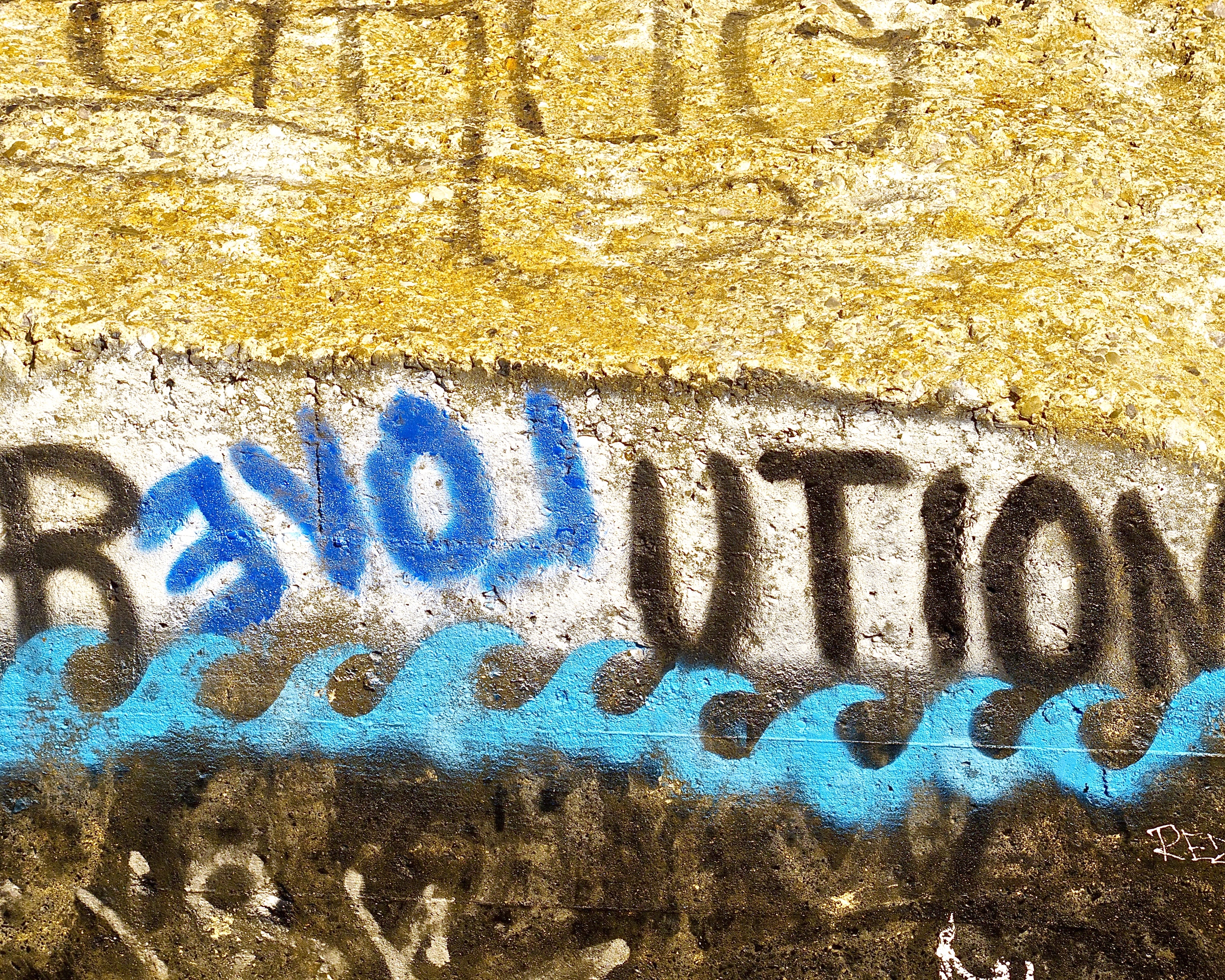 ESSENCE OF EVOLUTION
My eye was drawn to the loud design work on the Pacifica Beach boulder. Only later did I come to understand the implied message: You need "Love" to transform revolution successfully, which is what evolution is.